For some it is still rare to see a fellow African on Orchard Road, yet arrivals from the continent are increasing – students, workers and entrepreneurs. A social group that holds meet-ups, cookouts and fashion shows offers reminders of home, and by countering misunderstandings they break the ice with locals
By Toh Ee Ming
In a nondescript building in the Katong neighbourhood on Singapore's eastern outskirts, a small congregation dressed in bright, colourful prints dance joyously to a choir belting out vibrant songs of worship in English.
It's Sunday morning at the Cornerstone African House of Praise, a fellowship inaugurated in 2006 at the Cornerstone Community Church, which welcomes black people from around the world.
With meet-ups like this one, the African community in Singapore is carving out its own cultural spaces in the small island nation thousands of kilometres from home.
Fuelled by trade and education, the community of about 2,000 people is growing, according to Sean Pike, a counsellor at the South African High Commission in Singapore. In recent years, interest in Africa-Asia business has flourished, with Singapore aiming to be a gateway to Asia for African companies. Trade between the two regions reached S$9.78 billion (US$7.17 billion) in 2017. Over 60 Singaporean companies now operate in more than 50 countries in Africa, in sectors ranging from agribusiness, information and communications technology to transport and logistics, according to Enterprise Singapore, the government agency that helps local enterprises establish international connections.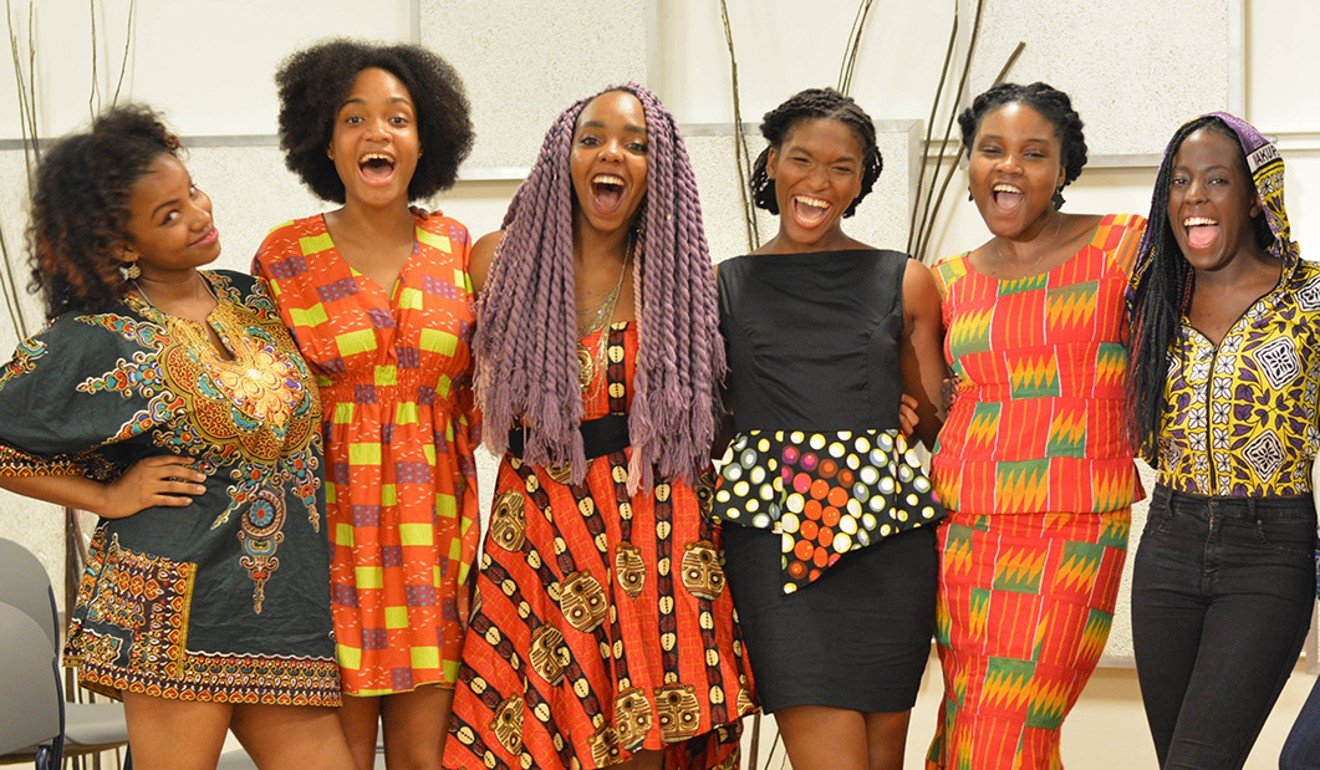 Members of the Yale-NUS Afro Society raise awareness about Africa in Singapore.
The Yale-NUS Afro Society (YAS) has a mission to educate Singapore's wider community about less well understood African and Caribbean cultures of the world by organising fashion shows and food-related events such as a Jamaican Jerk Festival and casual cookouts.Founded in October 2016 by the first few students of African descent at Yale-NUS College (a Yale-National University of Singapore collaboration and Singapore's first liberal arts college), the society began as a platform for cultural education. Today, YAS has 17 registered members, as well as other regulars and graduates. The group comprises a mix of international students who are African or Caribbean natives, or have family origins in Africa. The society collaborated with the US embassy in Singapore and Netflix Singapore to screen the US historical drama Mudbound, to mark Black History Month in February this year.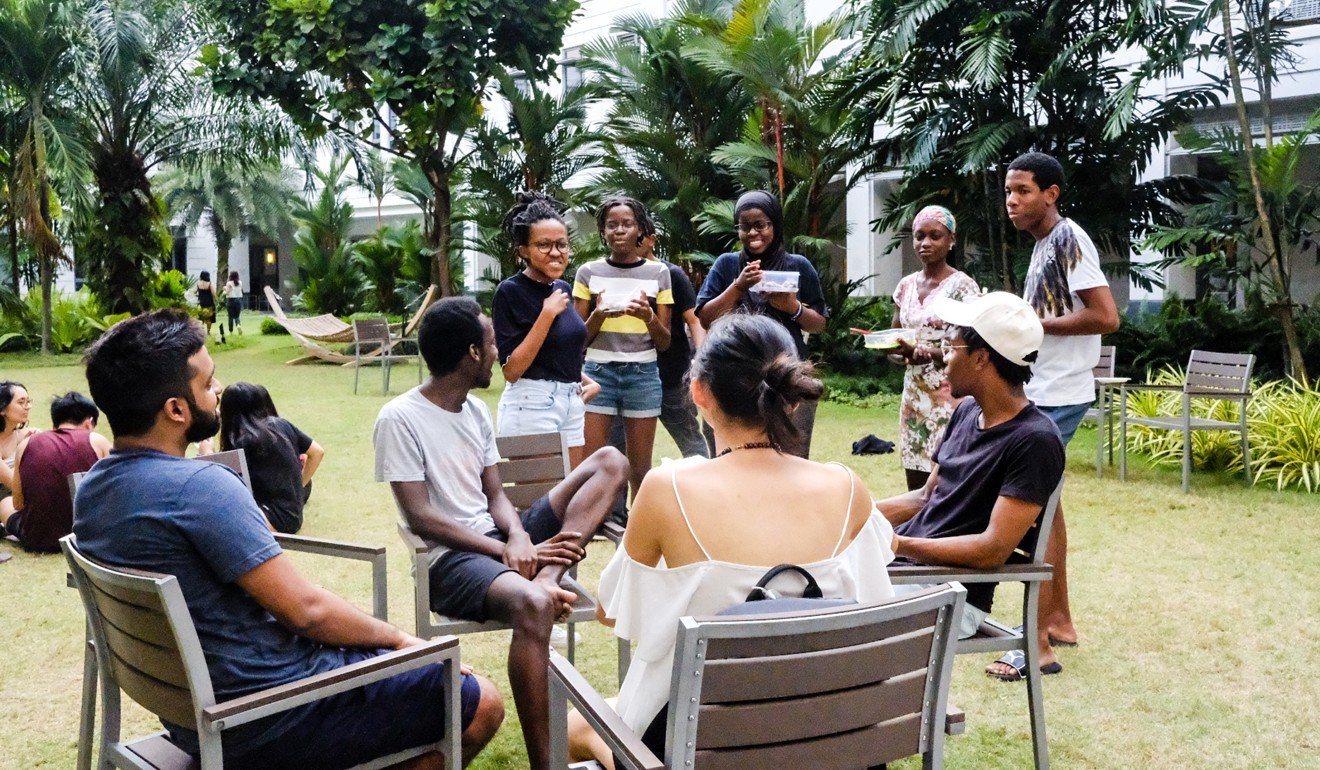 Students and guests mingling at a casual Sunday cookout organised by the Yale-NUS Afro Society. Photo: Toh Ee Ming
YAS member and Tunisian national Haroun Chahed, 23, was not even considering Southeast Asia for his university studies; he initially thought Singapore was a city in Malaysia. But after visiting for a weekend, Chahed made the "impulsive decision" to move to the city state, shocking his family. "They thought I'd been brainwashed … because I'd been so set on going to the US and I changed my mind after three days," he recalls with a laugh.The YAS group offers a "a place similar to home even if it's just for two hours hanging out", says Chahed, the group's vice-president, who is majoring in mathematical, computational and statistical sciences. Some of the people he meets in Singapore have little idea about Africa, Chahed says. "Sometimes you get questions that are really basic, such as whether Tunisia is all Sahara Desert and people move on camels, or 'You're African. Why are you not black?'."POST MAGAZINE NEWSLETTERGet updates direct to your inboxSUBSCRIBEBy registering, you agree to our T&C and Privacy Policy
To counter these misunderstandings in a lighthearted way, YAS posted a video on Facebook titled S#@$ People Say to Students With African Heritage, which has already been viewed 11,000 times. "Inspired by true events", the video features a series of ill-informed questions.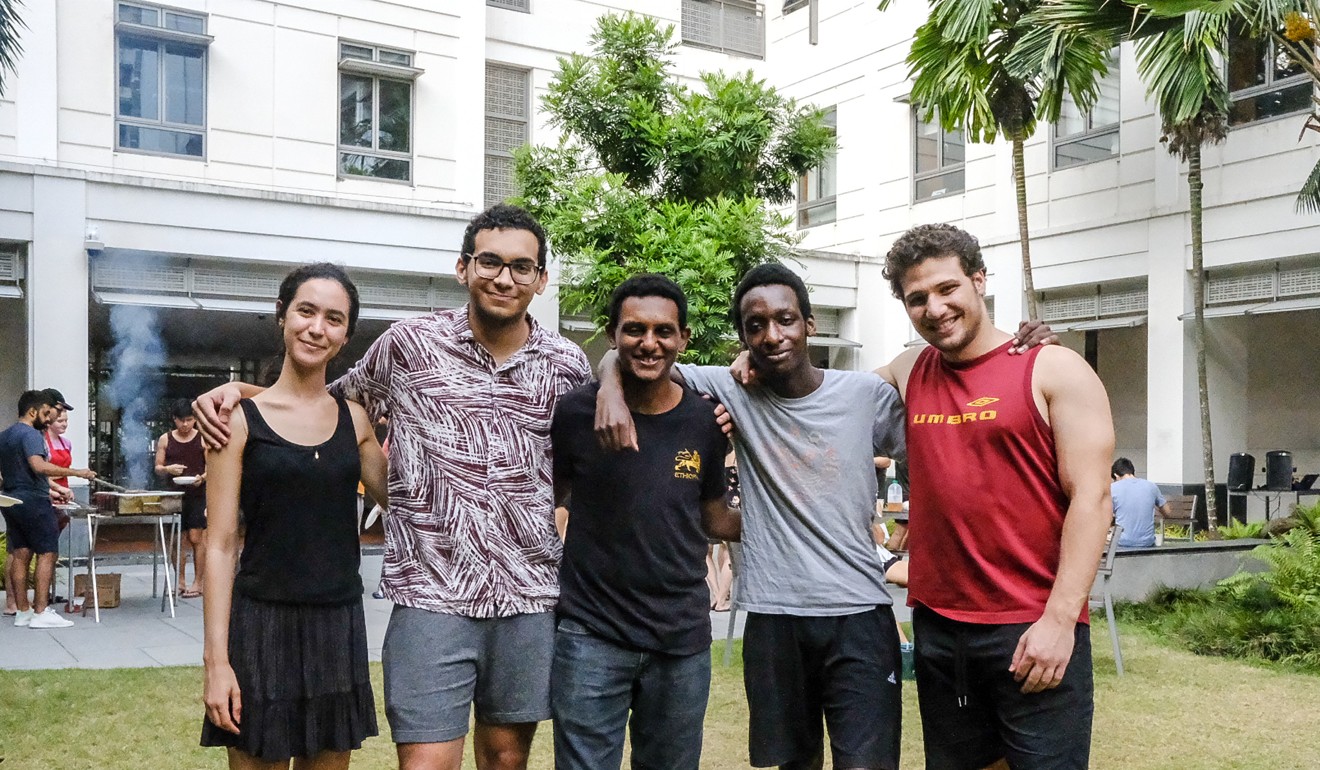 YAS president and Ethiopian national Kebron Gurara (centre, in black) and Tunisian national Haroun Chahed (right, in red). Photo: Toh Ee Ming
Nabiila Nanfuka, an 18-year-old from Uganda who is studying at the United World College of Southeast Asia, says she has had to explain that Africa is not a country and "not everyone has Ebola". Fellow Africans, she adds, are still rare in Singapore. "When you see an African in Orchard Road, you just smile to each other, even though you don't know them," she says. "Sometimes we talk for 10 minutes, and ask 'How did you end up here?'"
The YAS group set up a mentorship programme in 2016 to connect members with seasoned industry professionals who are also of African descent, to help them gain an insight into the working world and navigate life in Singapore.
Chahed says his mentor – who is experienced in start-ups in the corporate and public sectors – plays a huge role in shaping his career and education decisions. After he graduates, Chahed plans to stay on in Singapore to work, and he has already secured a job as a tech consultant. "That's why I'm excited about this new chapter. It feels like I'm really moving into Singapore," he says.
I want people in Asia to see lots of different sides of Africa. The majestic natural beauty. The incredible energy of our citiesChetna Bhatt, Kenyan-born jewellery and interior designer
YAS president and Ethiopian national Kebron Gurara, 23, says it's not usual for Ethiopians to seek an education in Singapore.
"Most people in Singapore aren't aware of Ethiopia and the reverse is also true," he says. He moved to Singapore in late 2017 and sees YAS as a way to foster a supportive community for those adjusting to Singapore. "In some ways, moving here was a big shift. Singapore has been a really welcoming place but it is very detached from everything I grew up knowing; the food, the norms, the language.
"In the midst of all that, this society provides familiar ground. It's a group of people you can retreat to for some familiarity because even though you're from such different places, you relate to being completely foreign in a new place in the same kind of way … it's very much like family," Gurara says on the sidelines of a Sunday cookout, where students relax on the college's lawn listening to the thumping beat of Nigerian hip hop music and feasting on boerewors (South African sausages), pilau rice from Kenya, slata mechouia (grilled salad) from Tunisia, and trays of sweet basbousa (cake) from Egypt.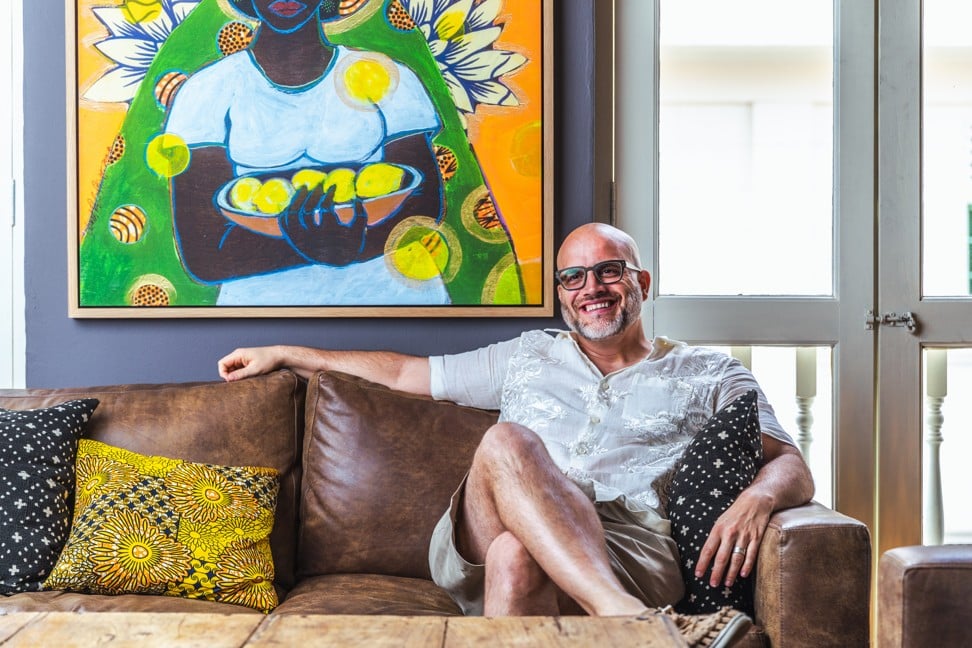 Kurt Wagner, owner of Kafe Utu, a newly opened Afro-centric restaurant in Singapore.
Some Singapore residents with African connections are entrepreneurs rather than students. With a childhood spent in Liberia, South Sudan and Kenya, Canadian real estate investor Kurt Wagner, 48, dreamed of bringing the bold flavours and textures of Africa to Singapore's food scene. So Kafe Utu was born, making its mark as one of the few Afrocentric cafes in the city state, and Wagner's first venture into the restaurant business since he relocated to Singapore in 2018.
"I grew up with a love for Africa and so I wanted to make a place where I felt like I was home," he says. At first he assumed that Africans were a rarity in Singapore, he says, but now he sees them working in every sphere, from fashion to fintech, and they visit the cafe on a daily basis. "They want to hear the music, eat the cuisine and feel like they are close to Africa."
Kafe Utu has also become the de facto meeting place for Africans and other black communities to network. A Wakanda Blockchain and Cryptocurrency meet-up at Kafe Utu was organised by BlackNet Singapore, a networking group for black professionals in the country.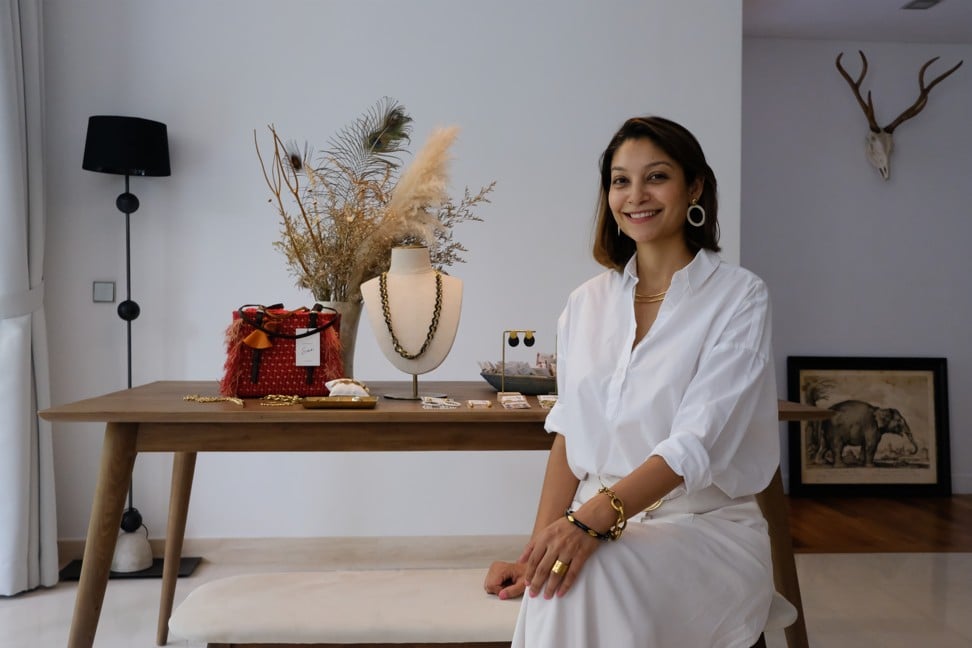 Kenya-born Chetna Bhatt founded Ashepa Lifestyle, selling African design products. Photo: Toh Ee Ming
After Kenyan-born artisan jewellery and interior designer Chetna Bhatt, 38, moved to Singapore in 2015, when her British-Indian husband relocated for work, she founded the Ashepa Lifestyle brand. Her label features a range of items, from statement brass jewellery to distinctive basket bags handmade by Ghanaian weavers, and she strives to ensure fair salaries and conditions for these African craftsmen.
"I want people in Asia to see lots of different sides of Africa," she says. "The majestic natural beauty. The incredible energy of our cities. The deep reds of Kenya, the vibrant yellows of Ghana, the glorious greens of South Africa. I want Asia to know about the people that may never get to travel beyond their country in Africa, and introduce something that these individuals made into their lives."
Bhatt was startled when she saw the scale of the African community in Singapore. "I was like, 'Oh my god, where have you all been?," she says. "It's a strong community, but it's not big, so they hang out with each other quite a bit. And they've been here for years, so they don't hang out in the tourist spots."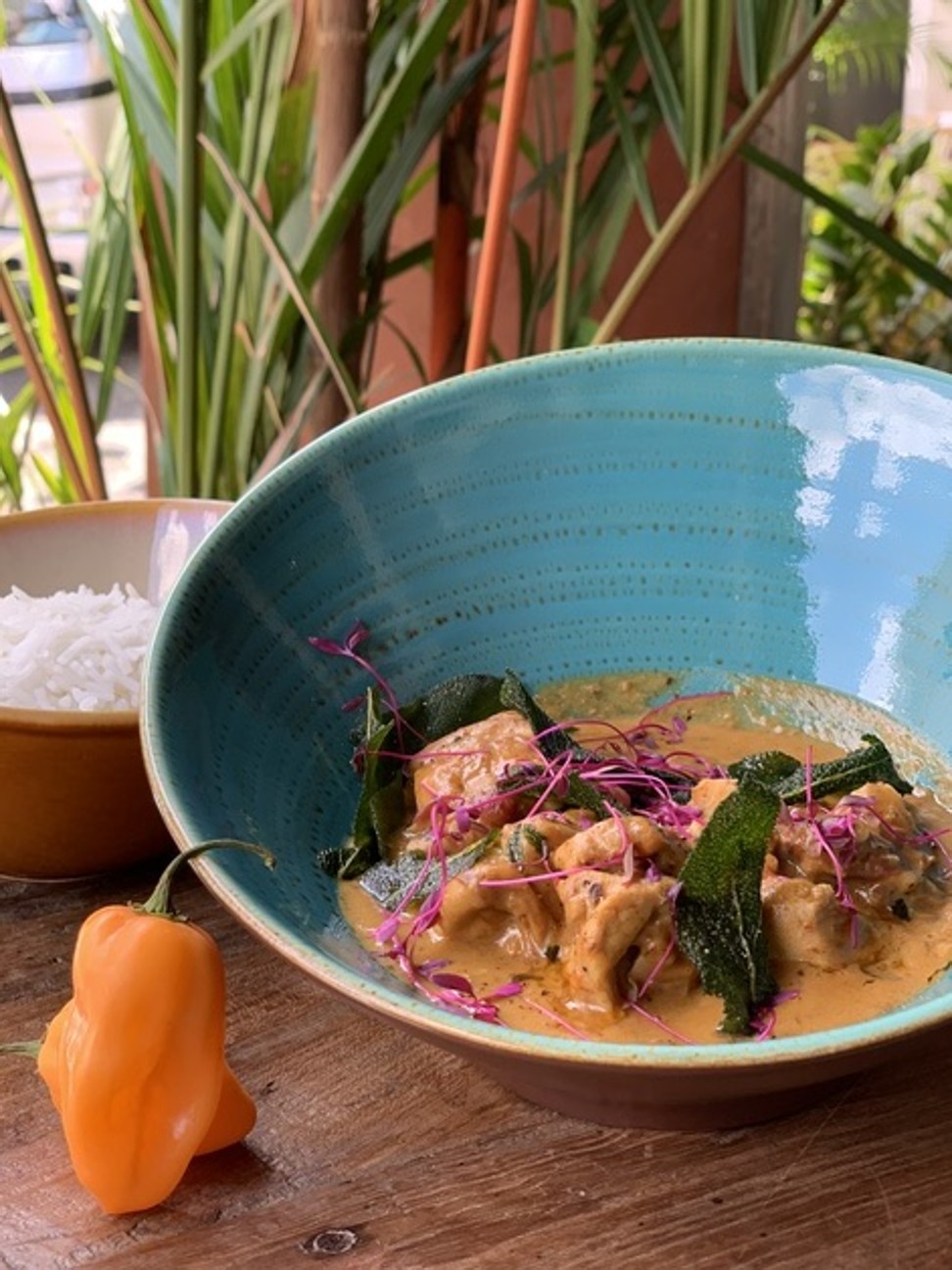 Liberian peanut chicken stew from Kafe Utu.
With ongoing conversations about trade between Singapore and Kenya, and the massive interest in Africa from China, Bhatt believes a promising future awaits the African community in Singapore and that many more Africans will flock to Asia.
"It's going to be great," she says. "It's about time."
Read from source South China Post